No. 40 Squadron R.A.F.

Description of the Squadron's Badge
A broom. The broom was chosen to immortalise the frequent exhortation of Major 'Mick' Mannock, the famous World War I pilot, who served with the squadron, to "sweep the Huns from the air!"
Squadron's Motto:
Hostem acœlo expellere" (To drive the enemy from the sky).
Formation date:
26th February 1916
Brief History:
Disbanded 4/7/19, Reformed 1/4/31 (Bomber). Disbanded 4/47, Reforming 1/48 Transport, disbanded 3/50. Reformed and disbanded 15/12/56

| | | |
| --- | --- | --- |
| Squadron Bases & Airfields | | Equipment Used and Dates |
| | | Hind |
| | | Battle |
| | | Blenheim IV |
| | | Wellington |
| | | Liberator BVI |
| | | Lancaster |
| | | |

No.40 Squadron, RFC, was formed at Gosport, Hampshire, on 26th February 1916, and from August 1916, to the Armistice served on the Western Front as a fighter squadron. During its service on the Western Front it claimed the destruction of 130 enemy aircraft and 30 kite balloons, and the driving down of a further 144 aircraft out of control and ten balloons in a damaged condition. Disbanded in 1919, No.40 was re-formed as a bomber squadron in 1931 and in the Second World War operated in several theatres: flying Blenheims and Wellingtons from bases in England it bombed targets in France, the Low Countries and Germany; flying Wellingtons from bases in the Middle East it bombed targets in North Africa, Sicily, Sardinia, Rhodes, Crete, Greece, Pantellaria, Lampedusa and Italy; and flying Wellingtons and Liberators from a base in Italy (Foggia Main) it bombed targets in Italy and the Balkans. In March 1945 the Squadron converted to Liberators which were moved to Egypt in October. In January 1946 the Liberators were replaced with Lancasters which were flown until No. 40 was disbanded on 1 April 1947. On 1 December 1947 the Squadron reformed at Abingdon as a transport unit, its Yorks taking part in the Berlin Airlift. The Squadron was disbanded on 15 March 1950 but was reformed on 28 October 1953 at Coningsby flying Canberras in the light bomber role until it was merged with No. 50 Squadron and formally disbanded on 1 February 1957

| Aircraft Photos | Personnel Photos | Target Photos | Other Photos |
| --- | --- | --- | --- |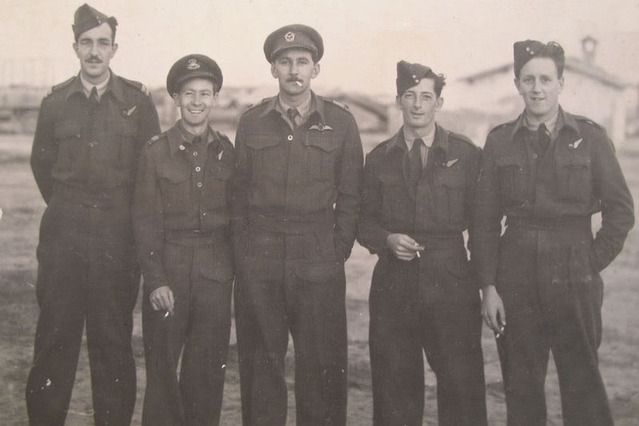 Wellington X crew at Foggia Main Italy. End of October 1944, this was taken after the crew had completed a tour of 33 missions. A well earned fag! From left to right, Sgt N Mair (nav), F/O F Maccabee (w/o), 2L/t Bayley (pilot SAAF?), Sgt R Strutt (b/a) and Sgt A Gibb (r/g and my Dad).
comments